Pink Power (2017 Women's March) - A 24-hour Painting Challenge!!
Jan 23, 2020
Pink Power (2017 Women's March) - A 24-hour Painting Challenge!!
[Mixed Media, 24" x 36"]
The third anniversary of the Women's March brought up memories of a painting I created back in 2017. Pink Power was a submission for a juried art competition called "Flat Under Pressure"in which participants had to create a work in 24 hours. Scrambling to come up with an idea, I leaned into my belief that artists are inherently responsible for being aware of the current reality they live in. To me, it's a gift to be able to reflect that awareness in my art, and that feeling was the motivation I needed to create this piece.
The 2017 Women's March was the largest single-day protest in U.S. history, drawing more than 470,000 to Washington, D.C. Regardless of political or ideological stance, I strongly believe that women's rights are human rights. That became the primary focus while painting this piece. Given that the march of the woman is often called the march of the nation, I decided to paint a single female figure.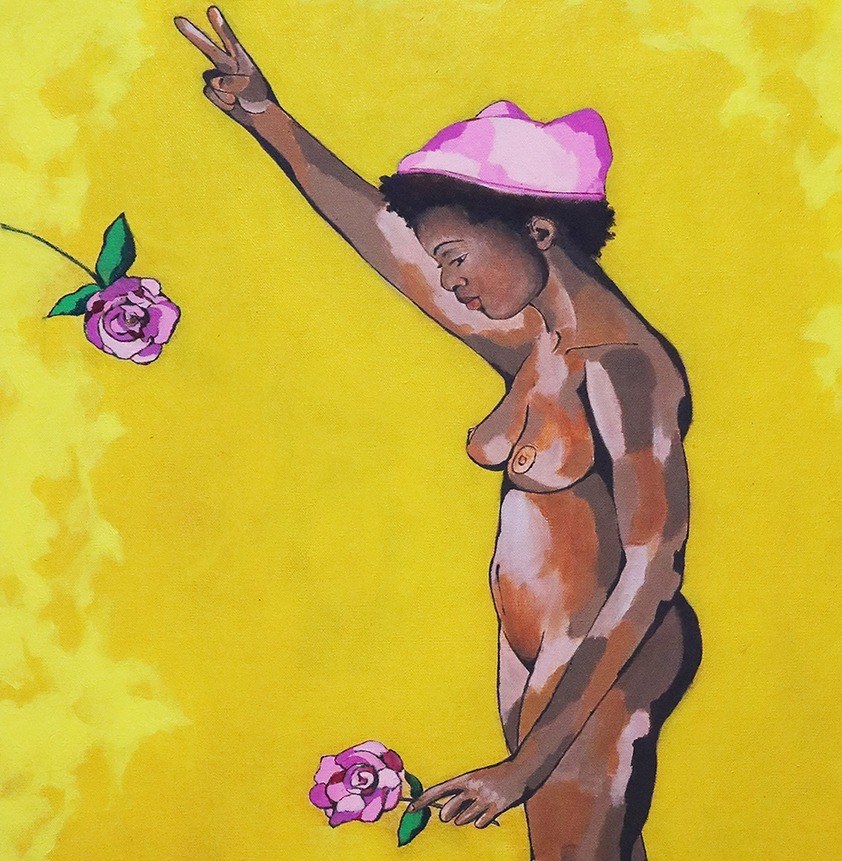 I painted the figure nude to express the pure essence of a woman, which transcends race, culture, sexual orientation, and other labels. The lack of clothing allowed her to be more ambiguous in her socioeconomic status, too. I chose to paint a woman of African descent to symbolize the anthropological evidence that humans' common ancestors came from Africa. To create more solidarity, I used several different skin tones to represent women of all races.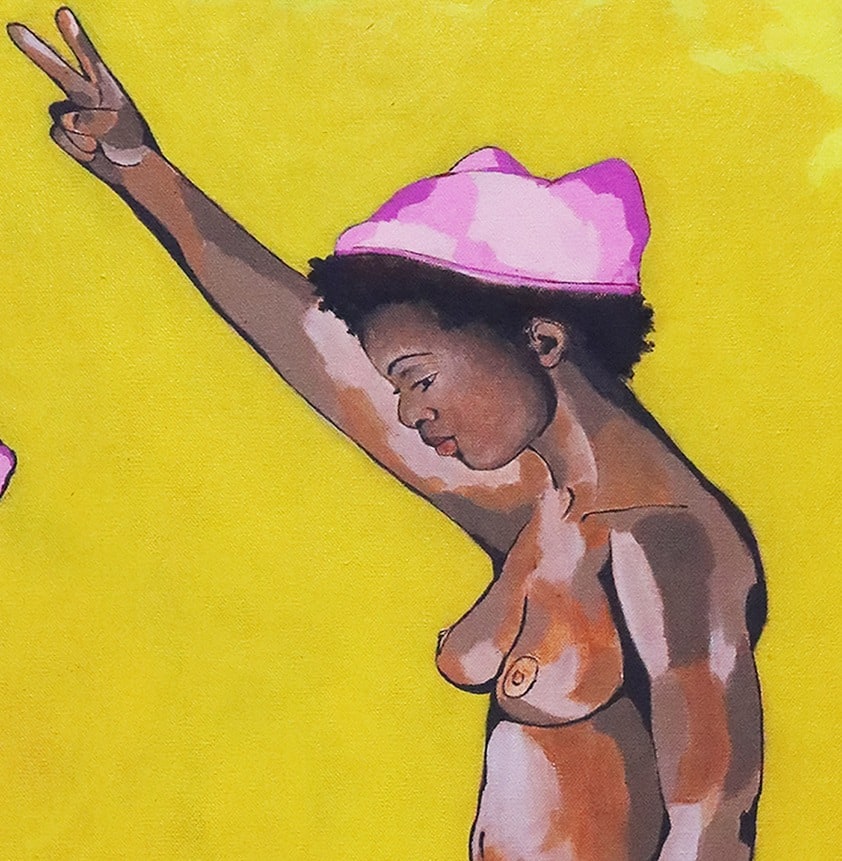 Symbolism was a huge part of this painting. The only piece of clothing the figure wears is a pink "pussyhat," a distinct symbol of the March. The figure is looking down as if to suggest that she's weary from fighting for her rights. At the same time, she's putting one foot in front of the other, symbolizing the March itself, but also the figurative "march" forward. She raises one hand in a "V" for victory (also considered a peace sign). Her other hand holds a pink rose, a classic feminine motif, while two more precede her. Two bright tones of Cadmium Yellow illuminate the background, representing hope and positivity while unifying the composition.

Creating a painting in 24 hours wasn't easy, and while I didn't receive any prize for this piece, it stirred up lots of comments and reflection.